Childrens Magic vs Childrens Entertainment – The Difference
Amazing things happen when we work together! – a blog series highlighting some of key times I've helped (alongside others) to organise entertainment for children and families – Issue II
A parent emailed me recently and was very clear that their child (in her words) "loved magic." This is quite a common thing actually but this time the client mentioned she was not interested in an entertainer who would talk down to their child. I assured her I would never do that, but it's an interesting point.
---
Children's entertainment sometimes has a bad rap. Many people without any experience decide that running a "kids birthday party" is well… child's play. In fact, there is a great deal of skill in working with children. As children are still developing their understanding of the world, and because any party can have a range of ages present, children are perhaps an even more complex audience than adults.
Unfortunately, many people jump headfirst into children's entertainment without considering these skills. It disappoints me when an entertainer tells a group of children they are a magician and then proceeds to get everything wrong "for comedy!"
While making a mistake can be a useful technique and can be funny, like anything it is one tool among many. Too often this one technique is used over and over again as a substitute for quality magic. The character of the magician becomes an idiot, that just gawks about throughout the show. Now some people might say that if something works, then why change it? However, I think that is a lazy way of thinking. As a professional performer, I know that when I create something unique, not only does the performance result in more enjoyment for me, but that joy is translated across to the children too.
Is That Really a Magic Show?
The parent in the above scenario who did go on to book my show told me she appreciated that my magic show was a 100% magic show. Perhaps that sounds strange to you, but I know of many "magicians" who sell a magic show and then spend 30 minutes performing with a puppet on their arm. That can be entertaining, and there is a place for that, but in my mind it is not a magic show. I honestly believe that magic is one the most effective ways to engage children. As my skills lie in performing magic, I would not feel comfortable to compromise the mystery of magic by watering down the show part of the party.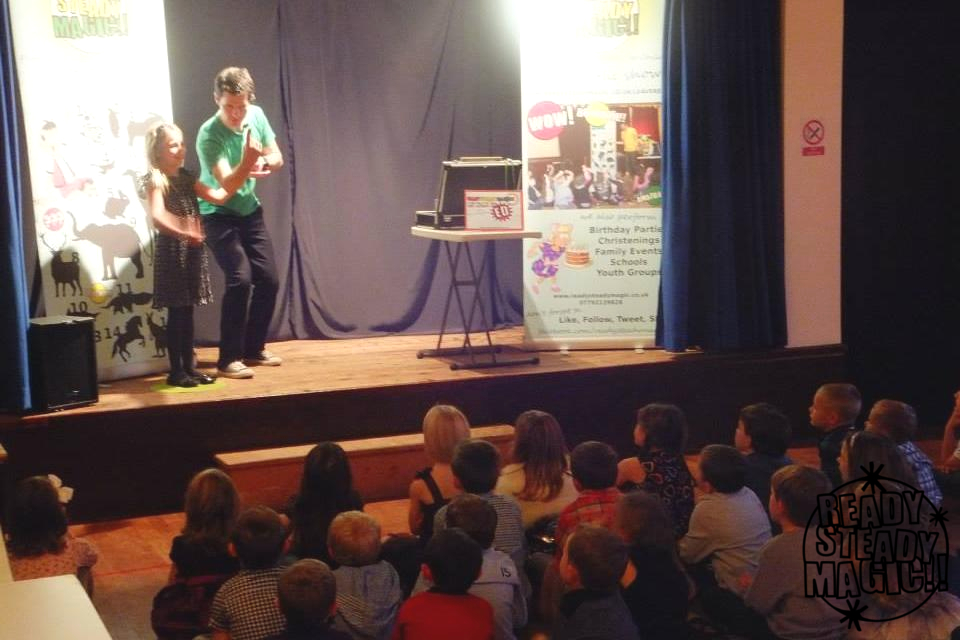 To help the magic along, she had selected a venue with a small stage. That gave the magic a real focus, and along with my skills made the show a really magical experience for her child that I am sure will be a happy memory for a long time.
I also suggested ways to incorporate magic throughout the party with magical invitations using invisible ink and magic relighting candles.
At this party, I performed only my magic show, but if you're looking for something more than magic, then I do also provide party games and balloon modelling separate from the magic show. They are a part of the whole party experience popular at general parties – eg. Halloween, Christmas where I play themed music too! And for birthday parties too, where they are a great way to add more in addition to the magic, not instead of the magic show!
Of course, having read all of this, there may still be those who want to hire an all-round entertainer. That's totally fine, but my dedication to quality magic is what makes me Ready Steady Magic. The clue is in the name really!
---
Want me to help out at your child's birthday party or family celebration? click here to email me.